Early Western Swing 78s

on Jazz-O-Rama

Bob Wills, Bill Boyd and Al Dexter will be among the country artists who's 78 RPM records will be heard on the this week's The Jazz-O-Rama Hour.




Host Joe Bev presents 78 RPM Jazz with a Sense of Humor: "Early Western Swing", including:




Milton Brown - I'll Be Glad When You're Dead, You Rascal

Bob Wills & His Texas Playboys - Who Walks In When I Walk Out

Light Crust Doughboys - Blue Guitars

Al Dexter - Saturday Night Boogie

Crystal Spring Ramblers - Fort Worth Stomp

Jimmie Revard & His Oklahoma Playboys- Ride'em Cowboy

The Tune Wranglers - El Rancho Grande

Noel Boggs & His Day Sleepers - Steelin' Home

Light Crust Doughboys - Pussy Pussy Pussy

Red Sovine - Billy Goat Boogie

Cliffie Stone - Silver Stars

Al Dexter - New Broom Boogie

Bob Wills & His Texas Playboys - Cowboy Stomp

Bill Boyd and the California Wranglers - Show Me The Way To Go Home



The Tune Wranglers
Link Davis was born in 1914 in Sunset, Montague County, Texas. One of eight children, he formed a trio with two of his brothers during the late '20s, playing local dances. A natural musician, Davis started out playing the fiddle and later took up the saxophone. He gravitated toward Western swing music when he turned professional and one of his earliest known steady gigs was as a member of the Crystal Springs Ramblers, a Fort Worth-based outfit with which he cut his first record in 1937.
Louis Armstrong's New Orleans,
with Wynton Marsalis:
A Joe Bev Muiscal Sound Portrait




by Joe Bevilacqua Narrated by Joe Bevilacqua, Winton Marsalis, Donald Newlove, Leonard Lopate, Louis Armstrong




Length: 59 min.



Veteran radio producer Joe Bevilacqua hosts this entertaining, informative hour, recorded in the French Quarter of New Orleans and featuring jazz great Wynton Marsalis, jazz author and historian Donald Newlove, WNYC Radio talk show host Leonard Lopate, members of the Preservation Hall Jazz Band, and others, on the origins of jazz, and the life and music of legendary trumpeter Louis Armstrong. Also featured is the music of Armstrong throughout his long career, and rare recordings, including audio from a 1957 CBS TV documentary with Edward R. Murrow.








Milton Brown (September 7, 1903–April 18, 1936) was an American band leader and vocalist who co-founded the genre of Western swing. His band was the first to fuse hillbilly hokum, jazz, and pop together into a unique, distinctly American hybrid, thus giving him the nickname, "Father of Western Swing". The birthplace of Brown's upbeat "hot-jazz hillbilly" string band sound was developed at the Crystal Springs Dance Hall in Fort Worth, Texas from 1931 to 1936. Brown's music inspired the great string jazz musicians from Europe, Django Reinhardt and Stephane Grapelli who in 1935 formed the Hot Club de Paris quintet.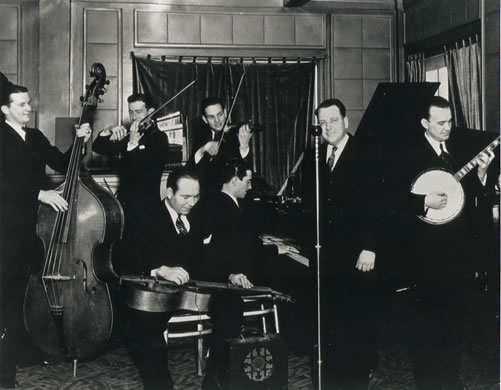 Milton Brown
Along with Bob Wills—whom he performed with at the beginning of this career—Brown developed the sound and style of Western swing in the early 1930s; and for a while he and his band, the Musical Brownies, were more popular than Bob Wills and his Texas Playboys. Brown's career was cut short in 1936 when he died in a car accident, just as he was poised to break into national stardom.

James Robert Wills (March 6, 1905 – May 13, 1975), better known as Bob Wills, was an American Western swing musician, songwriter, and bandleader. Considered by music authorities as the co-founder of Western swing,[1][2][3] he was universally known as the King of Western Swing. Wills formed several bands and played radio stations around the South and West until he formed the Texas Playboys in 1934 with Wills on fiddle, Tommy Duncan on piano and vocals, rhythm guitarist June Whalin, tenor banjoist Johnnie Lee Wills, and Kermit Whalin, who played steel guitar and bass. The band played regularly on a Tulsa, Oklahoma radio station, and added Leon McAuliffe on steel guitar, pianist Al Stricklin, drummer Smokey Dacus, and a horn section that expanded the band's sound.
Link Davis
The Light Crust Doughboys are western swings longest running band spanning from 1931 to the present. Over the years ther group has had many member changes and many of the WS greats had played with them at one time or another. Their music ranged from cowboy ballads to all out hot jazz.
Woodrow Wilson Sovine (July 17, 1918 – April 4, 1980), better known as Red Sovine, was an American country music singer associated with truck driving songs, particularly those recited as narratives but set to music. The most famous example was his 1976 number one hit "Teddy Bear".
GET SOME WESTERN COMEDY...
Joe Bev Goes West
A Joe Bev Cartoon Collection, Volume 4
Selected, produced and directed by Joe Bevilacqua

Featuring works by Joe Bevilacqua, Jim Harmon, Carl Memling, and Pedro Pablo Sacristán

Performed by Joe Bevilacqua
Runtime: 2.2 Hours

Genre: Fiction/Humor
ISBN-13: 978-1-4830-1570-5
Award-winning radio producer and voice actor Joe Bevilacqua, a.k.a. Joe Bev, presents two hours of horse opera parodies. This volume includes
The Deductive Mr. Horsefly
Tom Mix and the Mystery of the Bodiless Horseman
Johnny the Lizard
The Lonely Ranger
Deadeye Dunbar
Rapunzel and the Bandit
The Old Ranger
The Full Warren
© 2014 by Joe Bevilacqua, Waterlogg Productions
Al Dexter (May 4, 1905 – January 28, 1984) was an American country musician and songwriter. He is
best known for "Pistol Packin' Mama," a 1944 hit that was one of the most popular recordings of the World War II years and later became a hit again with a cover by Bing Crosby and The Andrews Sisters.
Al Dexter
Born into a musical Oklahoma family that had fiddled for generations, Jimmie Revard moved to Texas before he became a teenager, but honored his home state when he named his band Jimmie Revard's Oklahoma Playboys. Revard's foray into the western swing scene of 1930s Texas began at St. Mary's University and soon after, he recruited the Hofner brothers, singer/guitarist Adolph and steel guitarist Emil. The band so impressed a rep from Bluebird Records who had stopped by San Antonio to hear them that he decided to record them immediately;
"Oh! Swing It" was released in October 1936. After completing his recording contract in 1940, he become a San Antonio policeman. After the war, Revard performed locally, but never made another serious attempt to record.
During his life, Noel Boggs appeared on some 2,000 recordings as a soloist, with Bob Wills, Spade Cooley, Jimmy Wakely, Hank Penny, Bill Boyd, Sheb Wooley, Les Anderson, Merle Travis, Tommy Duncan's Western All Stars and the Cass County Boys. He worked on the radio with Roy Rogers, Gene Autry and the Sons of the Pioneers. He made regular television appearances with Spade Cooley and on Jimmy Wakely's television show. His motion picture work included appearances in Rhythm Roundup, Blazing the Western Trail, Lawless Empire, Frontier Frolic, Everybody's Dancin', and Out West Teenagers.
The Tune Wranglers formed in 1935, and its original membership included Buster Coward (vocals, guitar), Eddie Fielding (banjo), and Charlie Gregg (vocals, fiddle). Fielding was replaced by Joe Barnes (known as Red Brown) soon after, and around 1936 Eddie Duncan joined on steel guitar. Fiddler Leonard Seago also played with the group for a short period. They played most often in Texas and Mexico, where they received airplay on border radio stations such as WOAI and KTSA. From 1936 they recorded for Bluebird Records, both under their own name in English and under the name Tono Hombres in Spanish. In total, they recorded about 80 tunes, including a session of Hawaiian-style songs with banjoist/reeds twins Neal & Beal.
Bill Boyd and The Cowboy Ramblers became major stars on radio and were offered work in Hollywood films and Boyd eventually appeared in six Western films during the 1940s. One of his other hits was "If You'll Come Back", No. 4, Jan. 1941. For his contribution to radio, Bill 'Cowboy Rambler' Boyd has a star on the Hollywood Walk of Fame at 6101 Hollywood Blvd.
Joe Bevilacqua (Joe Bev) has been producing radio in many genres since 1971 when he was 12. At 19
in 1980, Bev became the youngest person to produce a radio show for public radio. He co-hosted The Jazz Show with Garret Gega in the early 80s, a four hour a week mix classic jazz and comedy. Bev also worked for WBGO, Jazz 88 in Newark, NJ and produced documentaries for WNYC New York Public Radio on jazz legends including Louis Armstrong, Wynton Marsalis, Count Basie, Woody Herman, Cab Calloway, and Lionel Hampton.
Joe Bevilacqua

Bev also produces, directs, writes and voices half of The Comedy-O-Rama Hour, which is has been highest rated radio show on Cult Radio A-Go-Go! for many weeks. Joe Bev's other weekly radio show, The Jazz-O-Rama Hour debuted at #2.

22 weeks ago, the veteran voice actor added his third hour for Cult Radio, called The Joe Bev Experience which airs right after The Jazz-O-Rama Hour.