Rahsaan Roland Kirk, Rick Overton, and Stan Freberg birthday podcasts, and more... free at waterlogg.com.

Actor-comedian Rick Overton celebrates his birthday with Joe Bev on The Comedy-O-Rama Hour, part of WRN, the Waterlogg Radio Network podcasts, which also include birthday tributes to Rahsaan Roland Kirk and Stan Freberg.
Listeners can enjoy all of WRN's programming free of charge all in one place
anytime by visiting http://www.waterlogg.com.
Or by subscribe on iTunes:
The August 9, 2013 WRN Schedule:
The Jazz-O-Rama Hour:
"Rahsaan Roland Kirk's Early LPs" (Kirk was born August 7, 1935)
Cartoon Carnival: "This Here is Your Life, Stan Freberg" (born Stanley Friberg; August 7, 19260)
The Comedy-O-Rama Hour: "Camp Waterlogg-A-Go-Go! Ask Dimitri" with guest star Rick Overton (born August 10, 1954)
The Joe Bev Experience: "Yabba Dabba Doo! The Alan Reed Story" Chapter One & Scenes from the Daws Butler Workshop" #15
Jazz-O-Rama
"Rahsaan Roland Kirk's
Early LPs"
Joe Bev presents selections from Kirk's Work, I Talk with the Spirits, We Free Kings, Domino, including: Skater's Waltz, Serenade to a Cuckoo, A Sack Full of Soul, Rolando, Doin' the Sixty-Eight, A Laugh for Rory, Jive Elephant, Three for the Festival, E.D., Limbo Boat, 3-In-1 Without the Oil, and Stitt's Tune.
Rahsaan Roland Kirk was an American jazz multi-instrumentalist who played tenor saxophone, flute and many other instruments. He was renowned for his onstage vitality, during which virtuoso improvisation was accompanied by comic banter, political ranting, and the ability to play several instruments simultaneously.
Joe Bev remastered Kirk's work from his personal LP collection.
Cartoon Carnival
"This Here is Your Life, Stan Freberg"
Guest host Ralph Backwards presents a collection of rare and classic Stan Freberg records: "Elderly Man River" (CBS Radio 8/18/57); "Little Blue Riding Hood" (Capitol Records, 1953); "The Honeyearthers" (CBS Radio, 9/8/57); "Shaboom" (CBS Radio, 9/29/57); "Person to Pearson" (Capitol Records, 1953); "Wunnerful, Wunnerful" (Capitol Records, 1957); The Lox Audio Theater: "Rock Around My Nose"; plus some fake commercials for Freberg and food (CBS Radio, 1957), a real Cheerios commercial (1960s) and an ad for the Sunday comics (1980s) - featuring Daws Butler, June Foray, Peter Leeds and Hans Conried. Joe Bev's in there somewhere too...
Stan Freberg (born Stanley Friberg August 7, 1926) is an American author, recording artist, animation voice actor, comedian, radio personality, puppeteer and advertising creative director, whose career began in 1944. He is still active in the industry in his mid-80s, nearly 70 years after entering it.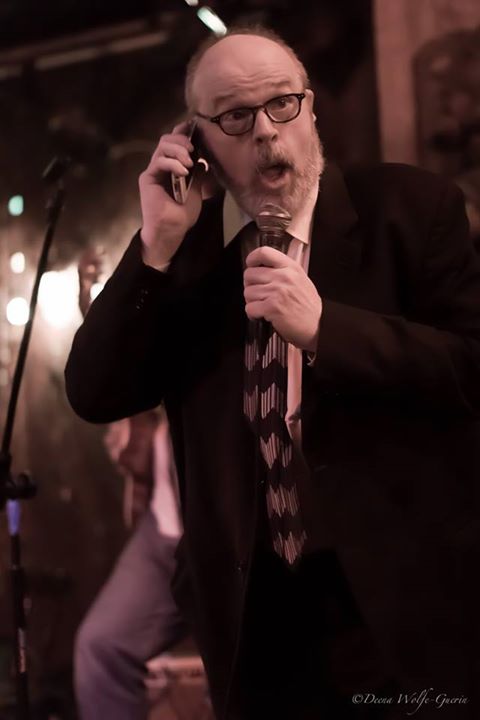 Comedy-O-Rama
"Camp Waterlogg: Ask Dimitri"
Comedian-actor-writer Rick Overton will make a guest appearance on The Comedy-O-Rama Hour.
"What an honor to have Rick on our radio show this week. Listeners are in for something special," says Comedy-O-Rama creator/performer Joe Bevilacqua (Joe Bev.).
Rick Overton and Joe Bev first met while performing the New Jersey college circuit in 1979 and shared the bill at New York's Improvisation in the early 1980s. Overton has been seen in many movies and TV shows, including "Seinfeld," "Curb Your Enthusiasm," and "Mrs. Doubtfire.' He won an Emmy for writing "The Dennis Miller Show."
On the show, Rick Overton plays Dimitri, a Russian mobster visiting the fictional camp. There is also a parody of the B-52s song "Rock Lobster," installments of "The Adventures of Teaman" and "Willoughby and the Professor", "Lum & Abner" and more.
Bevilacqua and his wife Lorie Kellogg voice 99% of the character voices on and improvised 50% of "Camp Waterlogg!"
Joe Bev Experience
"Yabba Dabba Doo! The Alan Reed Story" Chapter One & "Scenes from the Daws Butler Workshop" #15
Joe Bev presents the autobiography of the voice of Fred Flintstone, which he brought to life in radio theater style with Alan Reed Jr.
The audiobook includes rare interviews with Alan Reed himself, an interview with Joe Barbera, and clips from Reed's radio, TV, and film career, including The Fred Allen Show, The Shadow, The Life of Riley, Life with Luigi, Duffy's Tavern, The Postman Always Rings Twice, Viva Zapata, Breakfast at Tiffany's, and The Flintstones.
What the Critics Say: "Alan Reed, the voice of Fred, is no longer with us, but Joe's done his damnedest to bring him back in a five-hour, six minute audio book called 'Yabba Dabba Doo!: The Alan Reed Story.'" Don Yowp, yowpyowp.blogspot.com)
Also, on the hour, a new installment of Scenes from the Daws Butler Workshop, in which Joe Bev presents scripts written by his mentor, the voice of Yogi Bear, Huckleberry Hound, Elroy Jetson, Cap'n Crunch and other cartoon characters.
"Daws was a prolific writer and he fashioned these wonderful serious scripts, not cartoony," says Bev, who together with his wife Lorie Kellogg performs two Daws Butler scripts on this week's show: "Godot, Not Home (Revisted)" (a parody of Samuel Beckett's "Waiting for Godot") and "My Brunch with A" (A takeoff on Wallace Shawn's "My Dinner with Andre").
Joe Bevilacqua
(Joe Bev) has been producing radio in many genres since 1971 when he was 12. in the 1980s and 90s, Bev worked for WBGO, Jazz 88 in Newark, NJ and produced documentaries for WNYC New York Public Radio on jazz legends including Louis Armstrong, Wynton Marsalis, Count Basie, Woody Herman, Cab Calloway, and Lionel Hampton.
In his 30 year career, Bevilacqua (a protege of Daws Butler - the voice of Yogi Bear) has written and produced hundreds of radio plays, been a contributor to National Public Radio where he was awarded a Silver Reel Award from the National Federation of Community Broadcasters for his personal essay A Guy Named Joe Bevilacqua (2004), and two New York Festival Awards, one for his obituary of cartoon legend Joe Barbera for NPR's All Things Considered, the other his one-hour profile Lady Bird Johnson: Legacy of a First Lady.
He also works on stage and is the winner of the 2012 New York TANYS Award for Excellence in Acting. He has performed at the Improv, Caroline's on Broadway, Catch a Rising Star, the Comic Strip, opened for Uncle Floyd, worked with Al Franken, Shelley Berman, Louis Black and Rick Overton. Joe has also MC'd shows featuring Jerry Seinfeld, Bill Mahr and Gilbert Gottfried. He has been regularly heard on National Public Radio and Sirius-XM Radio and has produced hundreds of hours of audiobooks.
In addition, Bevilacqua will be seen in the upcoming feature films: "The Green Blade Rises" directed A.J. Edwards, "The Fly Room" directed by Alexis Gambis, "Cold in July" directed by Jim Mickle, and "Hits" directed by David Cross.
Upcoming WRN Schedule:
Friday, August 17, 2013
The Jazz-O-Rama Hour: "Open the Door, Richard: The 78s of Count Basie" (born August 21, 1904)
Cartoon Carnival: "An Interview with Friz Freleng" (born August 21, 1905)
The Comedy-O-Rama Hour: "Camp Waterlogg-A-Go-Go! To Julie Newmar, With Love, Ellis" with special guest star Julie Newmar (born August 16, 1933)
The Joe Bev Experience: "Bob Campett's Time for Beany part 1"
All Waterlogg Productions titles are available for sale through the company's Internet portal http://www.waterlogg.com

More about Waterlogg Productions at: http://www.waterlogg.com.