"
KANSAS CITY JAZZ
"
on The Jazz-O-Rama Hour
The Jazz-O-Rama Hour, part of
"The Joe Bev 3-hour Block" air every Saturday, starting 2:30 pm (ET) / 11:30 am (PT) at cultradioagogo.com.

"Cherokee", "One O'clock Jump" and "Kansas City Farewell" will be among the 78 RPM records heard on the 19th edition of Joe Bev's Jazz-O-Rama Hour airing this Saturday, November 24 - 3:30 pm ET / 12:30 pm PT, on Internet radio powerhouse Cult Radio-A-Go-Go! (http://www.cultradioagogo.com).
A sample of one of the sweet, sweet tunes on Jazz-O-Rama
This Saturday Joe Bev presents 78 RPM Jazz with a Sense of Humor: ""Kansas City Jazz", including: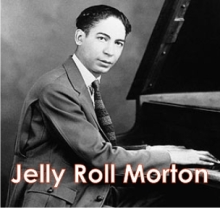 Jelly Roll Morton's Red Hot Chilli Peppers: Kansas City Stomps (1926)

Bennie Moten's Kansas City Orchestra: Yazoo Blues (1926)

Kansas City Stompers: Shanghai Honeymoon (1929)

Jay McShann and His Orchestra: Swingmatism (1941)

Orin Hot Lips Page and His Band: Lafayette (1940)

Count Basie and His Orchestra: One O'clock Jump (1942)

Bennie Moten's Kansas City Orchestra: Kansas City Shuffle (1928)

Count Basie and His Kansas City Five: Laughing at Life (1938)

Six Men and A Girl: Zonky (1940)

Eddie Durham and His Band: Magic Carpet (1940)

Count Basie and His All American Rhythm Section: Bugle Blues (1940s)

Harlan Leonard his Kansas City Rockets: Dameron Stomp (1940)

Jay McShann Combo: Oh, Lady Be Good (1940)

Charlie Parker and Friends: Cherokee (1942)

Pete Johnson Blues Trio: Kansas City Farewell (1939) (listen to this 78 record at: http://youtu.be/FR7JdvINJQY
Bennie Moten's Kansas City Orchestra
Bennie Moten's Kansas City Orchestra was the most successful Jazz band of the Midwest. The band toured all over the country and had a top selling recording in 1927 for Victor named "South". In 1929 Count Basie of The Blue Devils joined the band, and several other members of that band soon joined Moten's Orchestra. Count Basie took over the band after Moten's death in 1935.
That year Basie formed his own jazz orchestra, and in 1936 took them to Chicago for a long engagement and their first recording. He led the group for almost 50 years, creating innovations like the use of two "split" tenor saxophones, emphasizing the rhythm section, riffing with a big band, using arrangers to broaden their sound, and others. Many notable musicians came to prominence under his direction, including the tenor saxophonists Lester Young and Herschel Evans, the guitarist Freddie Green, trumpeters Buck Clayton and Harry "Sweets" Edison and singers Jimmy Rushing and Joe Williams. Basie's theme songs were "One O'clock Jump," developed in 1935 in the early days of his band, and "April In Paris".
Jay McShann was an American Grammy Award-nominated jump blues, mainstream jazz, and swing bandleader, pianist and singer. During the 1940s, McShann was at the forefront of blues and hard bop jazz musicians mainly from Kansas City.
In 1938, Parker joined the band of pianist Jay McShann, with whom he toured around Southwest Chicago and New York. A year later, Parker traveled to Chicago and was a regular performer at a club on 55th street. Parker soon moved to New York. He washed dishes at a local food place where he met guitarist Biddy Fleet, the man who taught him about instrumental harmony. Shortly afterwards, Parker returned to Kansas City to attend his father's funeral. Once there, he joined Harlan Leonard's Rockets and stayed for five months. In 1939, Yardbird rejoined McShann and was placed in charge of the reed section. Then, in 1940, Parker made his first recording with the McShann orchestra.
During the four years that Parker stayed with McShann's band, he got the opportunity to perform solo in several of their recordings, such as Hootie Blues, Sepian Bounce, and the 1941 hit Confessing the Blues. In 1942, while on tour with McShann, Parker performed in jam sessions at Monroe's and Minton's Playhouse in Harlem. There he caught the attention of up-and-coming jazz artists like Dizzy Gillespie and Thelonious Monk. Later that year, Parker broke with McShann and joined Earl Hines for eight months.
Joe Bev
Joe Bevilacqua (Joe Bev) has been producing radio in many genres since 1971 when he was 12. At 19 in 1980, Bev became the youngest person to produce a radio show for public radio. He co-hosted The Jazz Show with Garret Gega in the early 80s, a four hour a week mix classic jazz and comedy. Bev also worked for WBGO, Jazz 88 in Newark, NJ and produced documentaries for WNYC New York Public Radio on jazz legends including Louis Armstrong, Wynton Marsalis, Count Basie, Woody Herman, Cab Calloway, and Lionel Hampton.
Bev also produces, directs, writes and voices half of The Comedy-O-Rama Hour, which is has been highest rated radio show on Cult Radio A-Go-Go! for many weeks. Joe Bev's other weekly radio show, The Jazz-O-Rama Hour debuted at #2.
16 weeks ago, the veteran voice actor added his third hour for Cult Radio, called The Joe Bev Experience which airs right after The Jazz-O-Rama Hour.