Joe Bev presents 78 RPM Jazz with a Sense of Humor: "Al Jolson Meets Cab Calloway"
on The Jazz-O-Rama Hour, part of "The Joe Bev 3-hour Block" air every Saturday, starting 1 pm (ET) / 10 am (PT) at
cultradioagogo.com.
"Swanee", "Hi De Ho Man" and "Avalon" will be among the 78 RPM records (and movie soundtracks) heard on the 16th edition of Joe Bev's Jazz-O-Rama Hour airing this Saturday, October 12, at 2 pm (ET) / 11 am (PT) on Internet radio powerhouse Cult Radio-A-Go-Go!
http://www.cultradioagogo.com
.
This Saturday Joe Bev presents 78 RPM Jazz with a Sense of Humor: "Al Jolson Meets Cab Calloway", including:
"Swanee" - Al Jolson (1920)
"Swanee" - Al Jolson (1946)
"Hi De Ho Man" - Cab Calloway (1930s)
"When the Red Red Robin" - Al Jolson (1926)
"I Want To Rock" - Cab Calloway (1942)
"Oh Grandpa!" - Cab Calloway (1947)
"Avalon" - Al Jolson (1920)
"Avalon" - Al Jolson (1920)
"Everybody Eats When They Come To My House" - Cab Calloway (1947)
"A Chicken Ain't Nothin' But A Bird" Cab Calloway (1940)
"Toot Toot Tootsie" - Al Jolson (1922)
"Toot Toot Tootsie" - Al Jolson (1950)
"Abi Gezundt" - Cab Calloway (1939)
"Hoy Hoy" - Cab Calloway (1937)
"Jumpin' Jive" - Cab Calloway (1939)
"I Love to Singa" - Al Jolson & Cab Calloway (1939)
Al Jolson
Al Jolson, born in Lithuania, Russian Empire, was a highly acclaimed American singer, comedian, and actor, and the first openly Jewish man to become an entertainment star in America. His career lasted from 1911 until his death in 1950, during which time he was commonly dubbed "the world's greatest entertainer. Numerous well-known singers were influenced by his music, including Bing Crosby, Frank Sinatra, Dean Martin, and Judy Garland. By 1920, he was Americas most famous and highest paid entertainer. Between 1911 and 1928, Jolson had nine sell-out Winter Garden shows in a row, more than 80 hit records, and 16 national and international tours.
Al Jolson
"Swanee" is an American popular song written in 1919 by George Gershwin, with lyrics by Irving Caesar. It is most often associated with singer Al Jolson. The song was written for a New York City revue called Demi-Tasse, which opened in October 1919 in the Capitol Theater. Caesar and Gershwin, who was then aged 20, claimed to have written the song in about ten minutes riding on a bus in Manhattan, and then at Gershwin's apartment. It was written partly as a parody of Stephen Foster's "Old Folks at Home". It was originally used as a big production number, with 60 chorus girls dancing with electric lights in their slippers on an otherwise darkened stage. The song had little impact in its first show, but not long afterwards Gershwin played it at a party where Al Jolson heard it. Jolson then put it into his show Sinbad, already a success at the Winter Garden Theatre, and recorded it for Columbia Records in January 1920. "After that," said Gershwin, "Swanee penetrated the four corners of the earth.". The song was charted in 1920 for 18 weeks holding No. 1 position for nine. It sold a million sheet music copies, and an estimated two million records. It became Gershwin's first hit and the biggest-selling song of his career; the money he earned from it allowed him to concentrate on theatre work and films rather than writing further single pop hits. Arthur Schwartz said: "It's ironic that he never again wrote a number equaling the sales of Swanee, which for all its infectiousness, doesn't match the individuality and subtlety of his later works.
Jolson recorded the song several times in his career, and performed it in the movies The Jolson Story (1946), Rhapsody in Blue (1946), and Jolson Sings Again (1949). For the song's performance in The Jolson Story, Jolson, rather than actor Larry Parks, appeared as himself, filmed in long shot. Although usually associated with Jolson, "Swanee" has been recorded by many other singers, most notably Judy Garland in A Star Is Born. Rufus Wainwright performs the song on his 2007 album, Rufus Does Judy at Carnegie Hall. In 1979 "Swanee" was performed by the Muppets.
The song was also used by the Sydney Swans Australian Rules Football Club for it's marketing promotions in the late 1990's.
Cab Calloway
The Hi De Ho Man Cab Calloway was an American jazz singer and bandleader. He was strongly associated with the Cotton Club in Harlem, New York City where he was a regular performer.
Calloway was a master of energetic scat singing and led one of the United States' most popular African American big bands from the start of the 1930s through the late 1940s. Calloway's band featured performers including trumpeters Dizzy Gillespie and Adolphus "Doc" Cheatham, saxophonists Ben Webster and Leon "Chu" Berry, New Orleans guitar ace Danny Barker, and bassist Milt Hinton. Calloway continued to perform until his death in 1994 at the age of 86.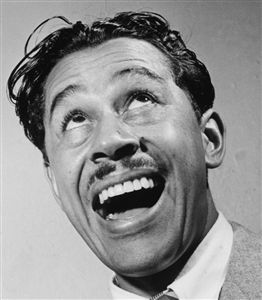 Cab Calloway
Calloway's was one of the most popular American jazz bands of the 1930s, recording prolifically for Brunswick and the ARC dime store labels (Banner, Cameo, Conqueror, Perfect, Melotone, Banner, Oriole, etc.) from 1930–1932, when he signed with Victor for a year. He was back on Brunswick in late 1934 through 1936, when he signed with manager Irving Mills's short-lived Variety in 1937, and stayed with Mills when the label collapsed and the sessions were continued on Vocalion through 1939, and then OKeh through 1942. After the recording ban due to the 1942-44 musicians' strike ended, he continued to record prolifically. Calloway's vocal style is a blend of hot scat singing and improvisation coupled with a very traditional vaudeville-like singing style. Many of his ballads are devoid of tone bending jazz styling.
"Avalon" is a 1920 popular song written by Al Jolson, Buddy DeSylva and Vincent Rose.[1] It was introduced by Jolson and interpolated in the musicals Sinbad and Bombo. Jolson's recording rose to number two on the charts in 1921.[1] The song was possibly written by Rose, but Jolson's popularity as a performer allowed him to claim composer co-credit. Originally, only Rose and Jolson were credited, and DeSylva's name was added later. The song was recorded by many artists in the '20's, '30's and '40's including Cab Calloway, Red Nichols, Benny Goodman, Lewis James and Harry James. Al Jolson himself re-recorded it in the 1940's after the success of "The Jolson Story". Written by Al Jolson, Buddy DeSylva and Vincent Rose.
This song was first introduced by Jolson at the Winter Garden in 1920. After its publication, the great Italian composer Puccini and his publisher filed a lawsuit against Jolson et al claiming that the melody was plagiarized from Puccini's aria E lucevan le stelle from the opera La Tosca. Puccini proved his case and won a $25,000 settlement and all future royalties.
In 1937, Benny Goodman's Quartet featured the song and their Victor recording became an American classic. That performance was repeated in the 1956 film, The Benny Goodman Story starring Steve Allen with Goodman himself playing clarinet for the soundtrack. It appeared in Cairo in 1942, sung by Robert Young and Jeanette MacDonald, in Margie (1946) and Gogi Grant sang it with the De Castro Sisters in the 1957 Helen Morgan Story. Of course, it also appeared in The Jolson Story in 1946 with Jolson doing the honors again for Larry Parks.
Jolson's film, The Singing Kid (1936), wanted to stage an explicit autocritique of the old-fashioned content of Jolson's past while maintaining some of his modernist form and style. It wanted to both erase and celebrate boundaries and differences, including most emphatically the color line. The Singing Kid's narrative opens with the multimedia star Al Jackson (Jolson) singing on the balcony of his sleek, modern penthouse. From another penthouse across the way, Cab Calloway and his band join in, and the song, "I Love to Sing-a," develops into a duet between Al and Cab. This number introduces and celebrates the Jolsonian verities (love of nature and song, romance, the South, the nation, mammy). Jolson sings the lyric -- including the syncopated, punctuating, and accurate line, "microphone's got [i.e. ruined] me!" -- in his characteristic old-fashioned premicrophone, declamatory style. . . When Calloway begins singing in his characteristic style -- in which the words are tools for exploring rhythm and stretching melody -- it becomes clear that American culture is changing around Jolson and with (and through) Calloway. . .
I Love to Singa is a Merrie Melodies animated cartoon directed by Tex Avery, produced by Leon Schlesinger, and released to theatres on July 18, 1936 by Warner Bros. and Vitaphone.[1] I Love to Singa depicts the story of a young owlet who wants to sing jazz, instead of the classical music that his German parents wish him to perform. The plot is a light-hearted tribute to Al Jolson's film The Jazz Singer.
"I Love to Singa" was first a song written by Harold Arlen and E.Y. Harburg for the 1936 Warner Bros. feature-length film The Singing Kid. It is performed three times in the film: first by Jolson and Cab Calloway, then by the Yacht Club Boys and Jolson, and finally again by Calloway and Jolson. During this period, it was customary for Warners to have their animation production partner, Leon Schlesinger Productions, make Merrie Melodies cartoons based upon songs from their features.
Joe Bevilacqua (Joe Bev) has been producing radio in many genres since 1971 when he was 12. At 19 in 1980, Bev became the youngest person to produce a radio show for public radio. He co-hosted The Jazz Show with Garret Gega in the early 80s, a four hour a week mix classic jazz and comedy. Bev also worked for WBGO, Jazz 88 in Newark, NJ and produced documentaries for WNYC New York Public Radio on jazz legends including Louis Armstrong, Wynton Marsalis, Count Basie, Woody Herman, Cab Calloway, and Lionel Hampton.
Bev also produces, directs, writes and voices half of The Comedy-O-Rama Hour, which is has been highest rated radio show on Cult Radio A-Go-Go! for many weeks. Joe Bev's other weekly radio show, The Jazz-O-Rama Hour debuted at #2.
Ten weeks ago, the veteran voice actor added his third hour for Cult Radio, called The Joe Bev Experience which airs right after The Jazz-O-Rama Hour.
More about Waterlogg Productions at http://www.waterlogg.com.
More about Waterlogg Productions at http://www.waterlogg.com.